Thanks to
Sandy Feet
for composing this ...
The turtles are returning to SPI to nest and that means it's time to get ready for the second annual Lighting of the Tiki Torches Flotilla, scheduled for Friday, May 18 at just before sunset. The reigning King and Queen Sargassum, along with their court of local kayakers, will paddle the entire length of the island, lighting tiki torches all along the bay. Upon arriving at Palm Street Pier, they will be greeted by drummers, hula dancers, ukuklele players and a special performance by the Bongodogs. This is a perfect excuse to break out the Hawaiian shirts and grass skirts and get ready for summer!
There are multiple ways to participate -- all of them FREE:
Kayakers: Meet at Ted's Landing at 5:30 if you are up for the whole trail, or join in at any point along the way. A trailer provided by The Beach Service will help you get your kayak back up to Ted's after the ceremony.
Bayside residents: Place your (unlit) Tiki Torch in the bay and the King and Queen of Sargassum will light it from the ceremonial torch. Contact organizer Nancy Marsden to get your location on the Tiki Trail Map.
Everybody Else: Walk to the nearest by access point to cheer on the flotilla and pay homage to King & Queen Sargassum! Then head over to Palm Street Pier to participate in the festivities.
The Island Drummers and hula dancers will be on hand to welcome the flotilla at Palm St. Pier. At 7:45 the sunset ceremony begins, culminating in "the calling of the turtles" (on a conch shell, of course!) as the island officially welcomes nesting sea turtles and the beginning of summer. Following the ceremony, the Saturn Street Strummers will break out their ukes as warmup for the ever-popular
Bongodogs
and their unique blend of Texmex Puro Caliche Island music.
The Bongodogs appearance at the Tiki Festival should come as no surprise. "Above all, we are citizens of the Island and lovers of the sea" says David Cassady, the Bongodogs bassist. "We hope that our involvement will inspire others to take an interest in the sea turtles...".
David, his wife Cathi, and Dave Lorhy are all Bongodogs and avid divers. "Cathi and I have had some great turtle experiences in both Belize and Hawaii" said David, "but last year was probably the best! We all three traveled to Mexico to do some diving and had many wonderful close encounters with these very friendly creatures."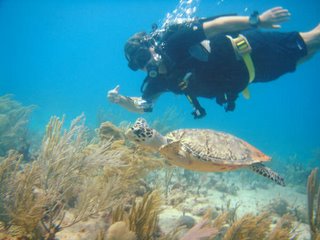 "This one took a particular liking to Dave!"
"We hope everyone will come out to support this event. See you there!"